Well Child Check-Ups
Routine checkups play a vital role during the developmental years of your child's life. Well-child exams begin around the age of six and continue until about the age of ten. Check ups establish a health foundation that will allow your doctor to track future developmental changes. These exams are meant to provide your doctor with a
comprehensive understanding of your child's health so that they may best be able to follow changes, catch any potential problems early and prevent health issues.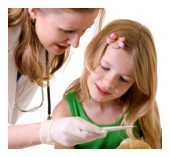 During the first part of the checkup, expect to engage in a discussion with your child's doctor about any major injuries and/ or illnesses that your child may have had since their last check up. Following this quick conversation, your doctor may then take down measurements such as height and weight and perform a complete physical examination to track their physical growth. During this entire process, the doctor may engage in conversation to determine developmental habits to assess emotional and social growth. Your doctor will follow up with any necessary medical testing or immunizations necessary for your child's age group.*See our page on general immunization guidelines for more information. Lastly, to wrap up, expect your doctor to provide general advice based off his initial examination that can promote future growth.
If you live in or around Los Lunas, call our offices or fill out an online appointment request form to schedule an appointment with one of our health care professionals today. We'd be more than happy to answer any questions that you may have and look forward to serving you as your health care professional providers.